Proudly designed, developed and made in the village of Holt in Wiltshire.
Gecko Rubber was set up in the South West of the UK in 2004 with a DTI research & development grant and a kind loan from the bank. With this funding and the help of some excellent, often local, suppliers and industry partners we have developed a new expanded rubber technology.

This new patented cellular rubber material possesses outstanding physical (static and dynamic) characteristics with excellent vibration isolation, damping and shock resistance properties and lends itself to a wide range of applications. Our first major product using this patented technology is a puncture proof bicycle tyre. With over 35 years experience in tyre manufacture we have recognised that our Gecko rubber technology offers a new way of producing puncture proof/low maintenance tyres as well as offering significant recycling, safety, weight and cost saving advantages.

We believe our Gecko cellular rubber technology can successfully fill the gap between traditional pneumatic rubber material technology and the 'foamed plastic' solid tyre material technologies such as ethyl vinyl acetate (EVA) & polyurethane (PU).

What customers have said...
 "Gecko 700 x 40 tyres have proved invaluable on our Rail2Ride integrated bike share trial in Worcester. Not one trial user commented on them assuming them to be ordinary tyres, and the maintenance-free attributes kept operational costs right down to provide a financially sustainable bike share solution.  The latest 27mm Gecko 700s will be a further improvement. Not only was the 700 x 27 tyre an excellent balance of high shock absorption vs low rolling resistance, but also back to back testing against rival solid tyre offerings showed Gecko to be way ahead of the competition. The natural rubber sustainable credentials are a further bonus"
Charles Carey (Worcester Rail2Ride)
New sample in! Gecko rubber have created a 700 x 27 puncture proof road tyre and so far we are REALLY impressed. Want to give it a try? Pop past the workshop and take them out for a spin
Andrew Pears (Holy Spokes, Bristol) 
 "I have just acquired Gecko (26 x 1.5") tyres for my bike. Apart from being a little firmer (like fully inflated tyres) I can't tell the difference. The ride is very secure and comfortable. I really like them. I was very keen to have puncture proof tyres. I am in my mid-sixties and really do not relish that prospect. So now I have a good ride and peace of mind"
Jane Lyons
 "Here at Electric Bike Sales York we have been lucky enough to do extensive tests with 700 x 40 Gecko tyres. Doing a daily 8 mile commute through York I pass allotments famed for tyre shredding thorns. Roads that often have broken glass, nails and other puncturing objects that even the best pneumatic tyres have failed on. The piece of mind Gecko gives is priceless, especially on cold winter mornings. Another benefit I've found compared to other puncture proof tyres is the amazing grip especially in the wet"
John Campbell (The Electric Transport Shop, York)
 "I've had my Gecko 26 x 1.5" tyres 8 months, and I still love them. The ride is comfortable, and the security of knowing I can't get a puncture, and don't have to keep inflating them means that I get out on my bike more. This has proved to be invaluable during lockdown. I would never go back to pneumatic tyres now"
Jane Lyons
 "Have had Gecko 700 x 40 tyres on my bike now for several months and I can't notice any reduction in performance with my previous tyres. Its so great that they never go flat. Previously whenever I wanted to use my bike I always seemed to have to waste time pumping the tyres up first.
Before I got the tyres a friend who runs a bike shop warned that solid tyres are really hard to put on but actually the guy who put the Gecko tyres on for me said it was pretty straight forward.
Love the fact that they are fully recyclable and long lasting"
Julia Davies
 "We have completed several tours including trips from Bristol to Norwich, Brighton and Manchester, using Gecko 700 x 40 tyres on my wife's electric bike. We have been delighted with the performance and durability. We have just had to replace the rear tyre having done well over 4000 miles of heavy touring, the front still looks as good as new.
Richard at Gecko has been most efficient and helpful, I have recommended Gecko to friends and they have been very happy with the tyres they have purchased"
Mark Davey
"seriously stop buying anything else... these 700 x 40 tyres are the one.. no more punctures wooohoooo ride on!!!"
Alex Anderson
 "My company Sustainable Travel Solutions ( STS LTD) have been using Gecko tyres (mainly 700 x 40) on our fleet of Giant e-bikes for more than 18 months. All in all, the Gecko tyre perform like a pneumatic, with the benefit of being trouble free"
Simon Biggin (Sustainable Travel Solutions)
 " have been using Gecko 26" tyres on an e-bike for the last couple of years. It's a wonderful world where you KNOW you won't get a puncture whatever the state of the road or track you are on. Whilst pneumatics may be a bit more comfortable and quicker, after riding on the 26" Geckos most of the time I don't notice any difference "
Richard Peace (Electric Bike Report)
 "Just fitted the 26" Geckos to a ladies' 3 wheeler, Test rode it, and it feels and performs very well. The negative = rear motor wheel, a fiddly job to take out. The positive = no more rear punctures. Happy days = the Jobs a good one. End result = delighted customer. Cheers.
Simon Biggin (Sustainable Travel Solutions)
Geckos are also the best for the environment
Cycling is one of the most environmentally friendly and sustainable forms of transport available. But few people know that the tyres can be damaging to the environment and if you have a puncture, you'll likely to have to throw away at least the inner tube (if not the tyre as well) and at the end of their life they will almost certainly be thrown away into landfill. We commissioned an independent study into the life cycle impact of our tyre compared to a leading puncture resistant one. 
Above: a well known puncture resistant pneumatic tyre on the left (with its various textile layers, metal inserts and various separate rubber compounds & the puncture proof Gecko tyre (with it's single rubber component) on the right.
Below: The environmental savings are dramatic with pneumatic tyres (
grey bar
) versus Gecko tyres (
green bar
). Gecko rubber tyres are
70% less damaging
to the environment in terms of Carbon Intensity / Climate Change Impact (kilograms CO2 equivalent emissions) from an independent study.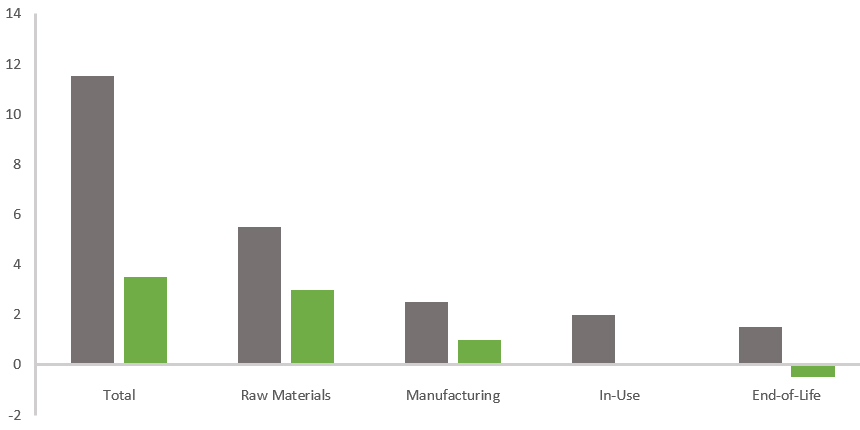 Even if we assume that both tyres last the same length of time. But since our tyres are puncture proof, they will obviously last much longer. If you also consider not needing the repair kits, pumps, spare tubes etc... it's clear which is better.
Gecko Rubber bicycle tyre grip comparison

The following bar chart compares the grip of Gecko Rubber (airless) puncture proof bicycle tyres with foamed EVA (airless) puncture proof bicycle tyres in wet and dry conditions in both cornering and straight rolling mode. As you can see the Gecko tyre grip (friction coefficient) is substantially higher than the foamed EVA tyre grip i.e. the average friction coefficient is over 3.5 times higher across the four test modes.
 Tests carried out by an established independent laboratory
Gecko Rubber bicycle tyres are easy to fit with a unique clip system
Gecko Rubber Bicycle tyres are easy to fit (in just a few minutes) to your existing wheel rims (please see individual Gecko tyre product information for fitting details including ETRTO wheel rim specifications).
We have developed our own unique tyre retaining clip system using toughened polyamide clips (also 100% recyclable) located at the tyre inner rim profile that lock into each other when the tyre is fitted to the wheel rim. Once the clips are located correctly into the wheel rim bead recess the natural elastomeric rubber qualities of the Gecko tyre ensure the clips are retained within the wheel rim for the the service life of the tyre.
Good

puncture proof/airless/solid tyres mean more people on their bikes
It is well known that many people are often not using their bikes because they go to their garage or shed to use them and they see either tyres gone flat or flat and cracked (and often with a puncture).
A good quality puncture proof/airless/solid bicycle tyre would solve this problem but unfortunately the puncture proof/airless/solid bicycle tyres available so far have often been difficult to instal with usually poor comfort and poor grip. So this has meant that the same people are still not going to use their bikes!
We recognised this problem some years ago and so developed the Gecko Rubber bicycle tyre. The Gecko Rubber Bicycle tyre has now been proven to have excellent grip and comfort and is easy to install and is also the most sustainable bicycle tyre on the market.
Gecko Rubber bicycle tyres are an answer for all those unused bicycles, Gecko Rubber bicycle tyres mean more people on their bikes and so a healthier, more environmentally friendly world. 
Why does the smaller 27mm wide Gecko airless tyre work?
We know the current view is when using a good quality fully pumped up pneumatic tyre then the best choice for both standard and electric bikes is probably a wider pneumatic tyre that can give more stability and durability without much (or maybe even no) performance penalty. However, when you are considering solid/airless/puncture proof tyres then we believe the better choice is a narrower smaller section tyre, provided you have good grip in the tyre and the small sectioned tyre has good durability. This is what we feel we have achieved with the new Gecko 700 x 27 puncture proof airless cellular rubber tyre. 
It seems well understood that the pneumatic tyre rolling resistance stays basically the same in moving from a narrow to a wider width (under constant load). The air pocket in the deflected contact patch therefore must be displaced around the tyre  annular space away from the contact patch area (whether 'narrow and long' or 'short and wide'). However, we believe with solid/airless/puncture proof bicycle tyres, that are also under a constant load, then the polymer micro cells (whether expanded rubber or foamed plastic) will compress, but they can't be displaced elsewhere, within the tyre. Therefore, if it's a wider contact patch, it's unlikely to be shorter in length as you would see with a pneumatic tyre. We believe the compressed cells in the solid airless tyre will react against each other and the result is that the load applied through the contact patch is turned more into heat as the sum of the volume lost through compressed cells can't be displaced elsewhere in the tyre annular space.
So, we believe it makes more sense for the best rolling properties, with a solid/airless (cellular rubber or foamed plastic) bicycle tyre, to have a narrower/smaller contact patch (with rolling properties also improved through the narrower aerodynamic profile) provided the grip and comfort properties of the tyre are acceptable in the narrower airless tyre.
We believe the above theory is exhibited well with the new Gecko 700 x 27 tyre.  
More dealers wanted
If we can get more people out using their bicycles then we will need more dealers to not only fit the Geckos but also keep the bicycles serviced and updated.
If you are a dealer and you would like to sell and fit our growing range of Gecko Rubber Bicycle Tyres then please get in touch with us through the contacts page or email us at enquiries@geckorubber.co.uk . We are looking for dealers to cover all parts of the UK and also abroad.